Get the Perfect Smile with Porcelain Veneers in Manchester NH
Veneers are thin porcelain tooth coverings, custom-made to fit comfortably over your existing teeth. These natural-looking coverings give you a healthy, beautiful smile that can withstand the test of time. Porcelain Veneers are the perfect way to give your smile a gorgeous new look – it's like getting a new set of teeth, but better.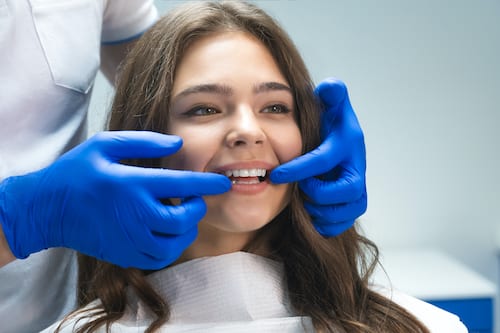 What are the benefits of dental veneers?
Dental veneers can help fix issues with tooth spacing, chips and cracks, discolorations, and crooked teeth. In addition to improving the overall appearance of your smile, veneers can also help protect enamel-worn teeth and prevent additional damage and decay. Suffer from sensitivity? Veneers can also help to reduce sensitivity to hot and cold food and drinks.
Who is a good candidate for veneers?
People with good oral hygiene and healthy gums who want to improve the appearance of their smiles are typically good candidates for dental veneers. Porcelain veneers help hide common imperfections like chips, cracks, discoloration, worn teeth, and mild misalignments.  Utilizing the latest techniques and materials, Oasis Dental can help you achieve the smile you've been dreaming about with dental veneers. 
How long do dental veneers take? 
Veneers are a multi-step process that is spread out over a few appointments. During the initial consultation, we learn about the patient's objectives, then discuss what is possible based on what they want. We learn all about our patients' personalities, how they smile, how they talk, and the expressions they make so we can create veneers that complement their existing smiles.  
We create each veneer to meet our patients' individual needs. In most cases, veneers require two separate appointments but this may vary. Once the dentist ensures a perfect fit, patients are sent home with simple after-care instructions.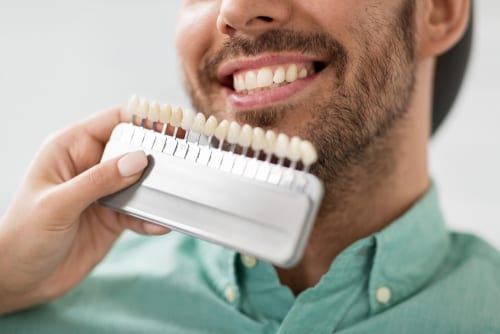 Are veneers permanent?
Veneers are permanent, however, they are not designed to stay on forever. Veneers are applied with a bonding cement that adheres the veneer to the real tooth. Veneers often last 15 to 20 years before needing to be replaced. 
How much do veneers cost?
At Oasis Dental, the process starts with an initial consultation which is $99. The cost for veneers can vary and depends on insurance coverage. Financing is available.
Do veneers hurt? 
At Oasis Dental, we do our best to make sure our patients are comfortable before, during, and after the application process. Our dentists start out with a localized anesthetic for numbing during the procedure. Most patients who get two to four veneers typically experience little to no pain following afterward. Some patients may feel a little soreness and discomfort which can be relieved with over-the-counter medication. 
Dental veneers or dental crowns?
Both veneers and dental crowns are dental restoration methods that can drastically improve the appearance of your smile. 
A veneer is a thin layer of porcelain or ceramic, approximately 1 millimeter in thickness, that is bonded to the front of an existing tooth.

A crown is slightly thicker, approximately 2 millimeters in thickness, and covers the entire tooth. A crown can be porcelain, porcelain fused to metal, ceramic, and metal alloy. 
A patient's dental hygiene and the condition of their teeth will help determine whether a veneer or crown is best suited for that patient. An initial consultation will help determine the option that is best for you. 
Oasis Dental Offers a variety of cosmetic dentistry services.
Are you ready to transform your smile with veneers?
There's no shortcut to a beautiful, healthy smile. Fortunately, Oasis Dental offers a wide range of options to ensure the best possible results. Veneers improve the appearance and length of your teeth via a unique process that requires minimal time in the dental chair. Call us today to schedule your veneer consultation.